ProtectUK publication date
Affiliated National Canine Training and Accreditation for Private Security (NCTAS-P) teams are welcomed to train with our police training schools, helping prepare them for annual accreditation and continuous training, providing the nation with Home Office backed assurance in detection capability for Explosives Detection Dog (EDD) teams.
The accreditation consists of a wide range of threat related substances incorporated within a meticulously planned schedule, spanning two working days for up to 4 EDD teams (one handler and one dog). Teams are assessed by our very best instructors on odour identification and four conventional searches (vehicle, building, area and route).
Police Sergeant Jon Hardwick and his supporting instructor Police Constable Lee Schofield invited ProtectUK to South Yorkshire Constabulary, to attend and observe Jason and Diesel of ICTS UK & Ireland being assessed for their 3rd successful year of NCTAS-P accreditation.
Police Sergeant Jon Hardwick talked about the NCTAS-P accreditation and benefits of the close working partnership: 
'It is really pleasing to see Professional Dog Teams from the Private industry that are comparable to the best Police EDD Teams in the country. Working together in this way is clearly going to strengthen the Nation's position when it comes to defending the Public and our shores'.
Jason Kirby is a highly trained and experienced Explosives Detection Dog handler. Kirby is extremely knowledgeable in his field and a keen enthusiast for NCTAS-P. He shared his extensive training record, which included an impressive 125 hours this year alone, and it was positive to see the dedication put into their detection ability as a team, as well as the welfare of Diesel. When asked his thoughts on NCTAS-P, he had this to say:
"As a dog handler with 27 years of experience within military and civilian life, I feel that the NCTAS-P qualification has given me the opportunity to reach the highest standard I can, ensuring the safety of the public and that of myself, knowing that as a team we are able to detect all substances that we are trained in. I would encourage all Explosive Detection Dog Handlers to take the opportunity to become NCTAS-P qualified and be part of the future of safe handling throughout the United Kingdom. In my opinion, this would bring consistency, to all dog teams, with everyone working to their highest criteria and following the same guidelines". 
Kirby introduced us to Diesel, a lovely 10-year-old black and white Springer Spaniel. Older than the typical retirement age for a working dog, it was clear Diesel was not going to let a little thing like age get between him and his work, which, as he had made abundantly clear to us all, he loves. Diesel took very little notice of the eyes upon him and was focused solely on the job at hand – keeping us all safe.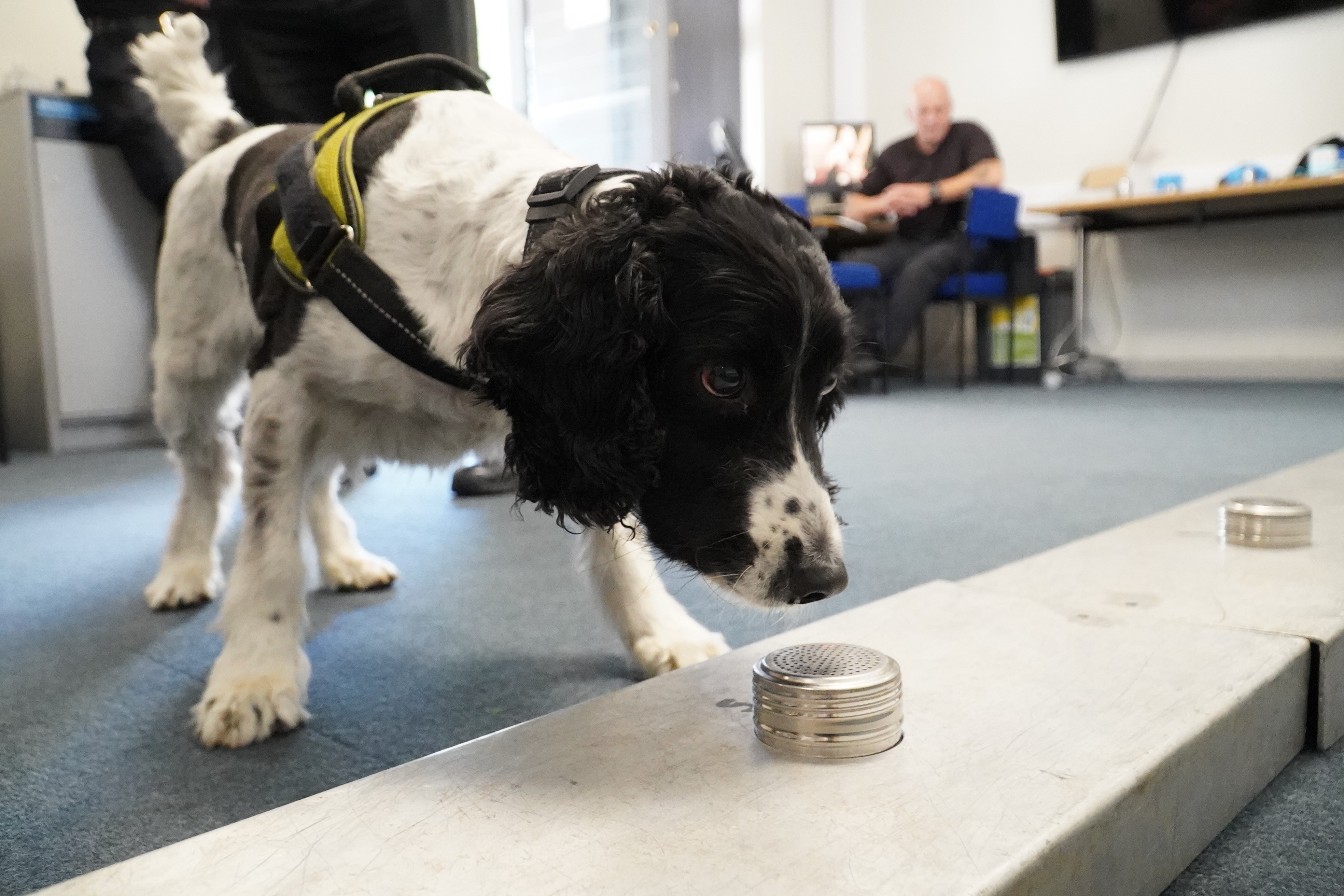 After completing a vigorous odour identification with speed, agility and accuracy most could only dream of, Diesel and Kirby were not finished and had more to offer. They impressed us further with their working relationship through a car park with the skills previously demonstrated in the odour identification test, as well as testing their endurance to work over longer periods of time.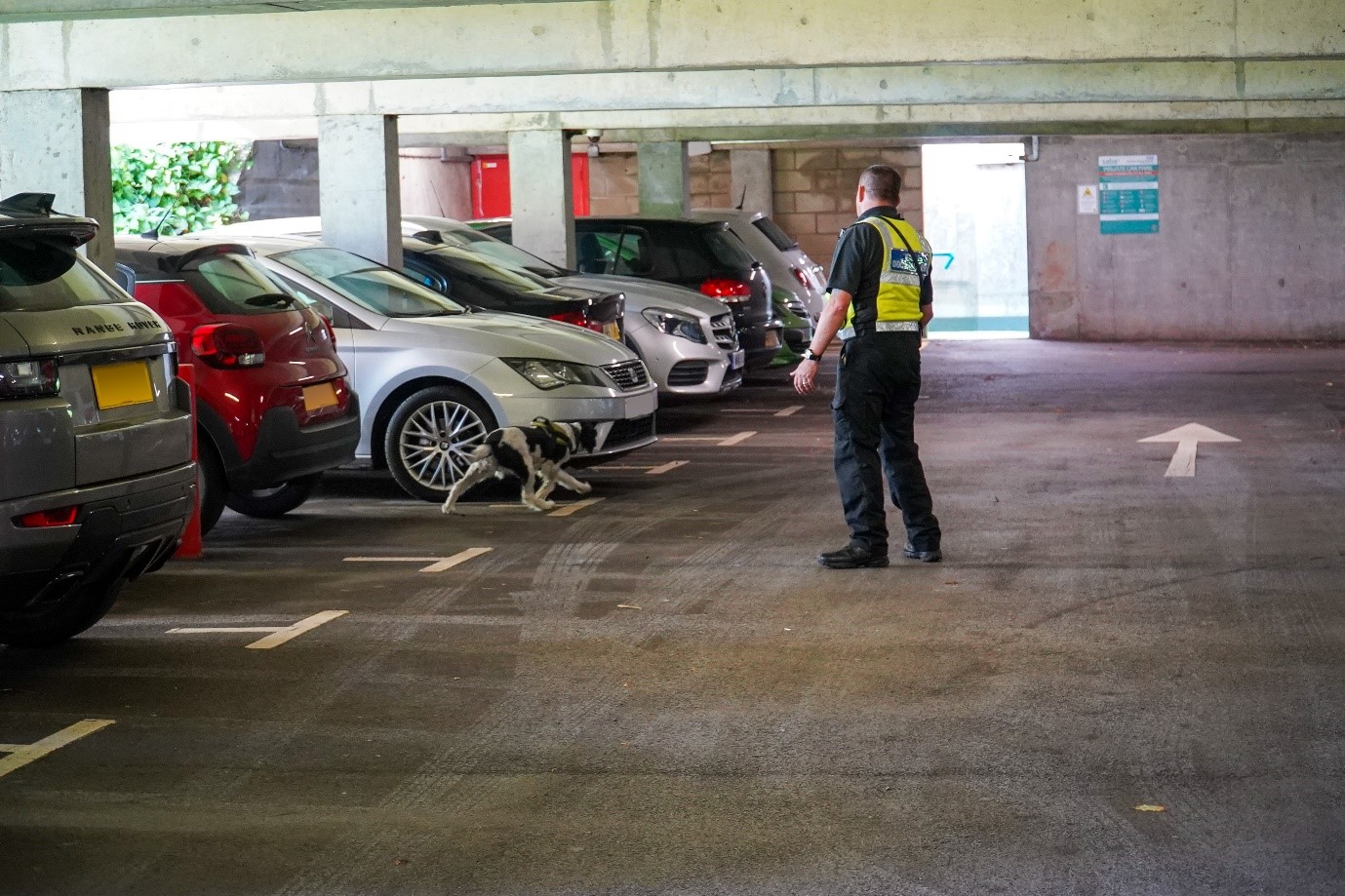 Despite the scenario being something more suited to a police response than a civilian posting, Kirby showed complete competence and confidence in his knowledge, skill set and trust in Diesel's abilities. Diesel was quick to get to work, clearing the building in a systematic approach to be marvelled. It was clear to see that NCTAS-P is only achieved through great teamwork between both police and private sector, providing another year of assured capability through the scheme.
For more information about NCTAS-P, please visit: National Canine Training and Accreditation Scheme (NCTAS) – Private Security Industry (NCTAS-P)
If you are a UK based Detection Dog Service provider and want to be an affiliated NCTAS-P team, please apply here: nctasp@homeoffice.gov.uk
Keywords
Public Safety
National Canine and Accreditation Scheme
Explosives Detection Dog
Odour Identification
Enhancing security
Private Security Industry