ProtectUK publication date
In July, 72 nations came together to compete for medals at the Commonwealth Games held in Birmingham. 18 months prior, the National Vehicle Threat Mitigation Unit (NVTMU) had started their preparation to help protect everyone attending the events.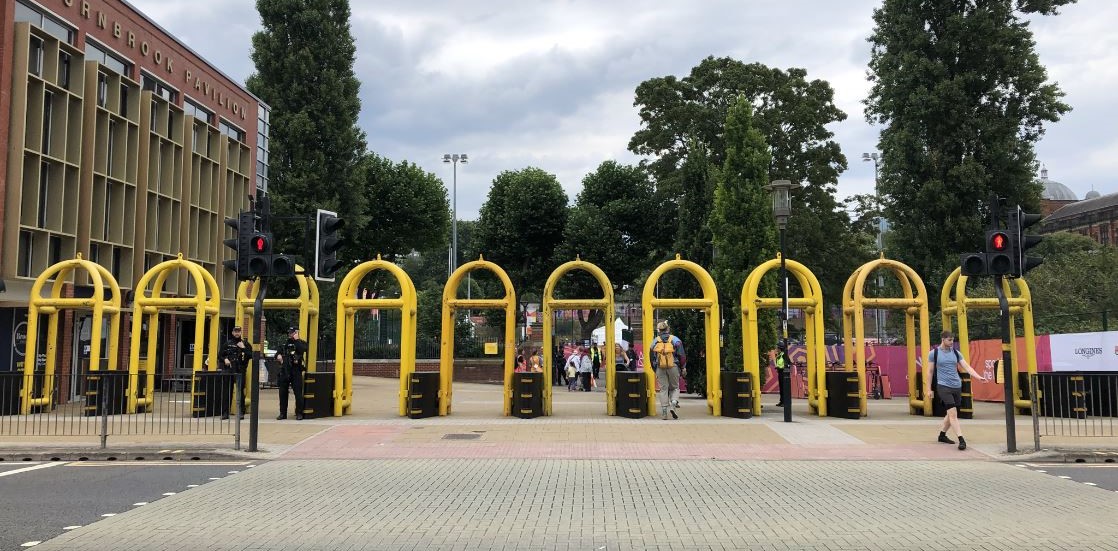 This involved providing advice to local and regional authorities, transport partners, police and the organising committee of the Commonwealth Games on countering a vehicle being used as a weapon. This was supported by the team delivering vehicle mitigation barriers, from the National Barrier Asset (NBA) to 18 sites which included athletes' villages, transport malls and sporting venues.
Throughout the event planning stages, the NVTMU conducted numerous site visits providing advice and support to Counter Terrorism Security Coordinators (CT SecCos) from West Midlands Police along with wider multi-agency partners across the resilience forums. 
The NVTMU consists of 4 Police Officers who are subject matter experts in the deployment of temporary hostile vehicle mitigation and if you are interested in finding more about National Vehicle Threat Mitigation Unit, please visit the unit's official page.
The deployment of the NBA, to support partners in delivering the Commonwealth Games, has seen the largest ever deployment of the asset in the 19 years that it has been deployed across various sites around the UK. This entire process spanned a total of 76 days. The size of the task cannot be underestimated. Meeting deadlines, cost effectiveness and the sheer number of resources required (staff and assets) made this a challenging deployment. 
In total, 56 gates, 387 barges, 160 Wailing Units from the NBA; plus 2000 Quick Moveable Blocks, 2 kilometres of TVRS, 475 modular HVM units, 5 kilometres of high security fencing and 12 kilometres of security fencing were deployed. Following the closing ceremony the team moved on to the next event ensuring that the NBA was safely removed, while continuing to provide to partners and the community of Birmingham. This was completed in partnership with the NBA Contractor who completed this tremendous task, thus helping to ensure the safety and security of those attending the Commonwealth Games. 
As the last of the athletes and spectators leave the venues with dreams made and memories to savour, the NVTMU continues to protect  the UK and support communities in the deployment of the NBA, such as the recent Brighton Pride and the upcoming Notting Hill Carnival events. 
Keywords
National Barrier Asset
NVTMU
Commonwealth games
Venues
Event