ProtectUK publication date
The 2022/23 Winter Vigilance campaign, launched by the Counter Terrorism Policing has come to an end.
ProtectUK members were instrumental in making the 22/23 campaign a success. A record number of businesses engaged with the campaign, which enabled winter vigilance key messages to be cascaded nationally to businesses, their staff and members of the public.
The campaign was underpinned by audience insights aimed at highlighting the importance of staying alert and keeping people safe over the festive period. Following feedback from businesses on last year's campaign, a toolkit was created providing internal and external messaging, suggested content and images for social media, videos and posters.
For the first time, the creation of tailored content for individual organisations was piloted. This resulted in working with more than 21 new partners and generated more than 80 bespoke graphics and content.
Companies showing their support included councils, resilience forums, exhibition and event centres, Christmas events, security groups, membership organisations and shopping and tourist attractions.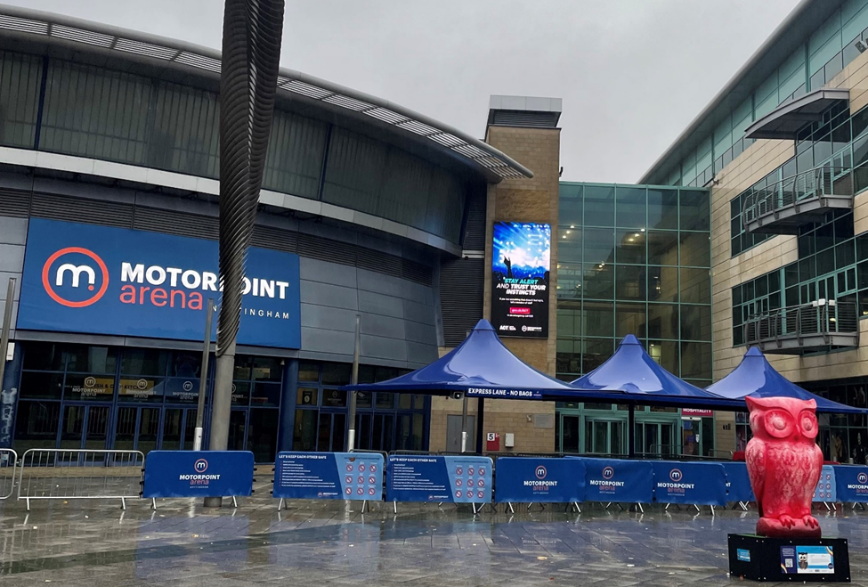 In order to capture different audiences, other campaign activity included an audio messaging service, which was trialled on the high streets of Preston, Lancashire. Three recorded winter vigilance messages were played through speakers in the busiest areas of the city centre, reaching on average 150,000 shoppers each week in the lead up to Christmas. 
In the West Midlands, Spotify was utilised to reach a younger audience. The four week paid for campaign reached more than 300,000 people and generated 1,700 clicks to the ACT website. Spotify had over half a million ads play and reached 164,000 people, which in turn generated 534 clicks to gov.uk/ACT. The most common age range to engage was 13-17 year olds.
Media opportunities, in conjunction with local businesses, were facilitated across the North West, North East and London, resulting in coverage on Global Radio, BBC Lancashire, Hits Radio, BBC Radio York, Look North, York Press, Times Radio, The Mirror, London Post and Evening Standard. 
A series of organic and paid advertising boosted the campaign on social media, display advertising and YouTube, reaching in excess of 3.3 million people, with more than nine million impressions over the nine week duration.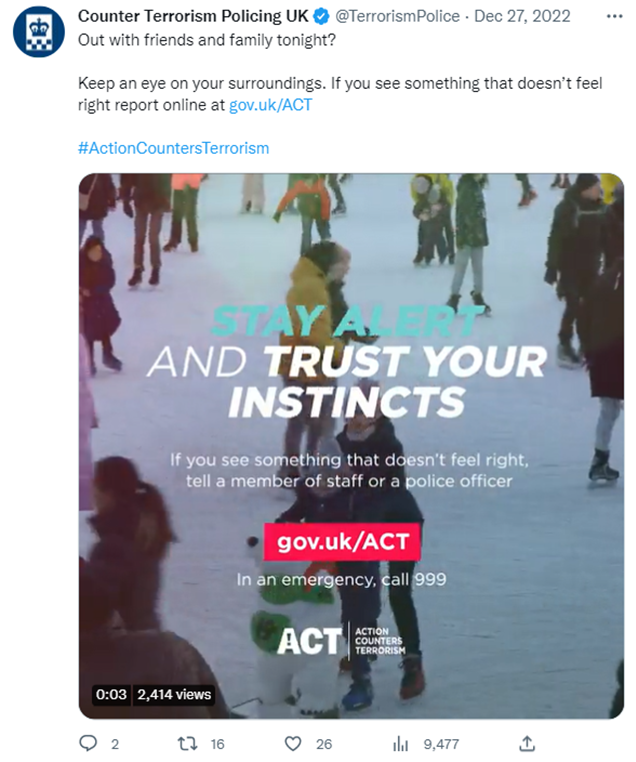 Feedback from partners on the toolkit was positive. "Having a range of asset sizes, some with 'tell security' and some with 'tell police' continues to be helpful," commented the BBC. "We feel it gives a good message to our audience and serves to reassure," said Hyde Park Winter Wonderland, and Middlesbrough Council added: "Thought it was a great comms kit, easy to use and easy to share with partners." 
In addition 4.8 out of five – rated the toolkit as ready to read, understand and download, 4.6 - rated the assets were relevant, had appropriate key messages and tone of voice and a 4.8 rating was received for the process of requesting tailored creative materials e.g. posters and social media images.
One of the campaign's aims was to increase numbers of reporting online. The campaign successfully achieved this by generating a 50.7% increase via online (gov.uk/ACT) reporting.
Thank you to all partners for their support. Case studies on how organisations' supported can be found here.
For further information on future campaigns, or for general queries, please email the team on NCTPHQ.comms@met.police.uk
Keywords
campaign
Vigilance
Counter Terrorism Policing
Toolkit